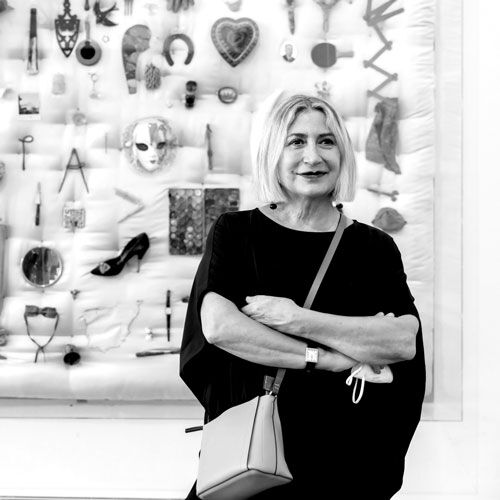 González Prize 2022 – Carmen Calvo
Carmen Calvo - 2021 / 2022
The 2022 recipient of the Julio González Prize is Spanish artist Carmen Calvo.
On July 14, 2022, Carmen Calvo was awarded a limited-edition cast of "Femme à l'amphore II (Woman with an Amphora II)", a work in cut bronze executed by Julio González in 1929-1930.  This award created in 2000 in partnership between the González Estate and the IVAM Centre Julio González recognizes each year a contemporary artist whose production embodies the inventive spirit of Julio González's work.  Past prize recipients include internationally renowned artists like Mona Hatoum, Annette Messager, Anthony Caro, Robert Rauschenberg, Eduardo Chillida, Anish Kapoor and Cy Twombly, only to name a few.
In conjunction with the Julio González Prize, Carmen Calvo's multi-media work from the 1960s to today is currently featured in a monographic exhibition at the IVAM Centre Julio González.  Carmen Calvo's work expresses the artist's personal view of the world, largely through the re-creation and assemblage of images and discarded objects that conjure daydreams, memories, desires and fears, while notably taking a critical look at gender inequality in today's society.  The exhibition will be on view through November 6, 2022.
---
Videos from González Prize 2022
---
Press release
Miguel Lorenzo