The exhibition "Julio González in the collection of the Fondation Marguerite et Aimé Maeght", organized by the Musée Picasso Antibes at Les Arcades – Espace d'Exposition in Antibes is set to open on November 10, 2022.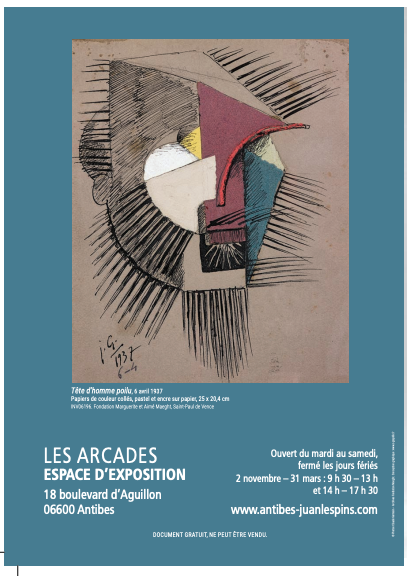 This exhibition, composed of 44 drawings and two sculptures, highlights the impressive ensemble of Julio González's works housed at the Fondation Maeght in Saint-Paul-de-Vence. The drawings span the entirety of González's career, from his early classicizing depictions of country life, to his later faces and figures on the threshold of abstraction. These later drawings–often sketches for his revolutionary sculptures–, are also works of art in their own right.
In addition, two of González's revolutionary iron sculptures housed by the Foundation Maeght are on display: "Personnage Debout (Standing figure)" (1932-1935), and "Daphne" (1937).
This exhibition, which testifies to Julio González's remarkable talent and vision, also pays tribute to Roberta González's generosity and successful efforts to ensure that her father's talent be widely and enduringly recognized and appreciated the world over. The works displayed were donated to the Fondation Maeght by Roberta González in 1972. This donation consisted not just of three sculptures and 50 drawings by Julio Gonzalez, but also 40 drawings by Joan Gonzalez, Julio's older brother whose promising career was cut short by his untimely death in 1909, three paintings and 45 drawings by Roberta Gonzalez,–a successful artist herself–, and a painting by Roberta's first husband, the abstract painter Hans Hartung. This prestigious ensemble was one of the most important early donations made to this institution inaugurated in 1964.
The organization of the exhibition by the Musée Picasso Antibes speaks to the artistic and personal ties that linked these two compatriots and pillars of 20th century art.
"Julio González dans la collection de la Fondation Marguerite et Aimé Maeght" will be on display at Les Arcades – Espace d'Exposition in Antibes through Jan. 8, 2023.