Julio González's "Les Amoureux II (The Lovers II)" and "Masque Ombre et Lumière (Mask Light and Shadow)" are currently on display in the Fundació Joan Miró's new exhibition "The Point of Sculpture" (Oct. 15, 2021-March 6, 2022).
This exhibition, curated by the celebrated Barcelona-based sculptor David Bestué, offers a fresh perspective on modern and contemporary sculpture from the 20th century through today, as creators sought to move beyond an art of mere representation.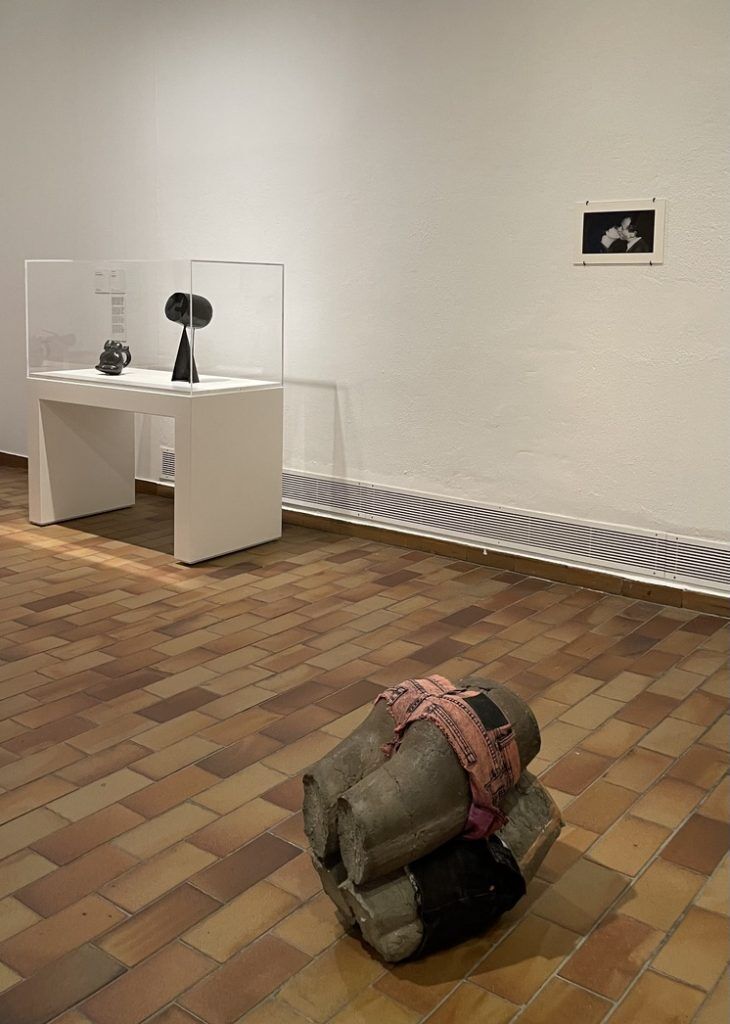 One of the themes addressed is the expression of human contact and desire. Under that umbrella, González's "The Lovers II" (1932-1933, pictured back right) is confronted with Bilbao-based June Crespo's "Cheek to Cheek" (2015, front), rendered in concrete and textile.
Both works explore the timeless theme of human contact in innovative ways. In González's "The Lovers II", two abstracted profiles of lovers kissing, cut into sheet metal, stand out against the dark shadow created by the hollow recess of the cylindrical iron vessel supported by a conical base and a vertical rod. The rounded extremity of the vessel evokes a single head, as though the two bodies had fused into one, juxtaposing dark and light, matter and space, male and female, and thereby reinventing the theme of the amorous liaison.
González's abstracted, timeless and contemplative depiction of this universal theme contrasts with June Crespo's colorful, contemporary and, one could say, "cheeky" rendition.
The fruitful dialogue that emerges between the work of these two compatriot artists living and working in two different places and times attests once again to the continued relevance of González's pioneering sculptural work.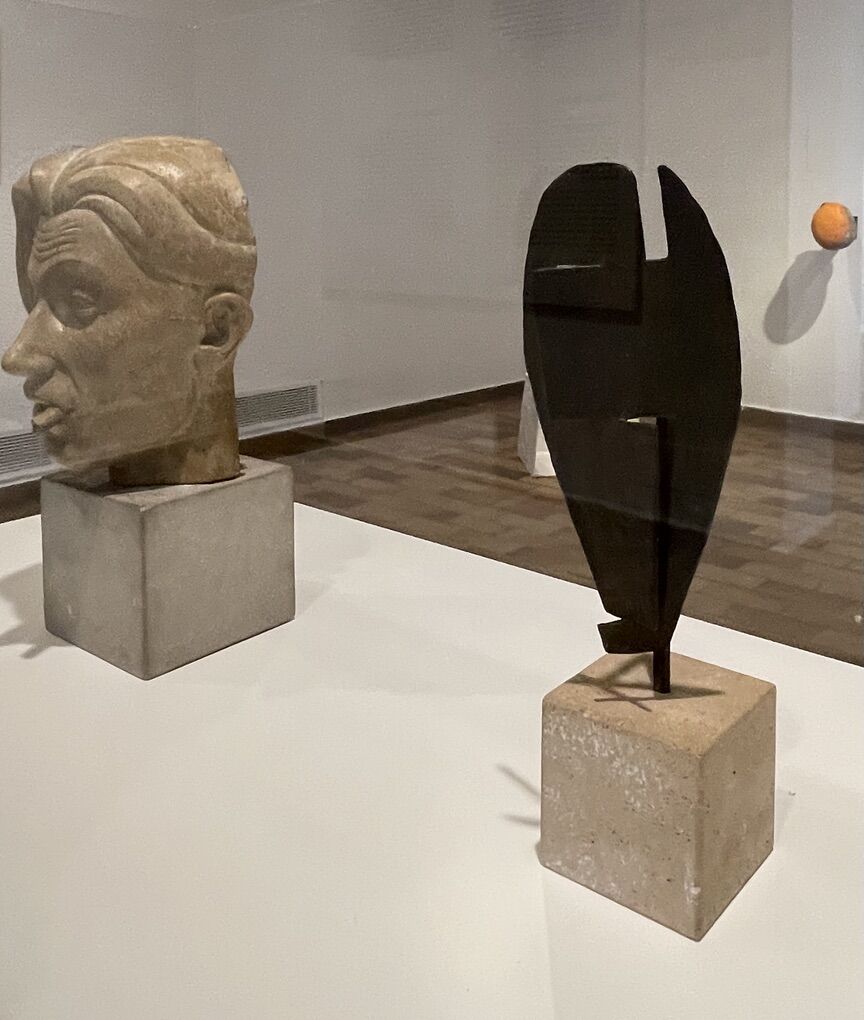 González's "Mask Light and Shadow" (1930) is displayed in the section devoted to diverse depictions of the human body.  González creates this work during the most abstract phase of his career, in a series of masks inspired by non-Western art and avant-gardist movements like cubism which he had previously rejected.  Here, the human form is reduced to the perpendicular imbrication of two pieces of meticulously cut scrap metal.  As its title indicates, the innovation lies in the capacity of these simple, geometric forms and the rough, textured surface of the metal to capture the effects of light and shadow. 
This work It is displayed next to a sculpture that is different in tone, style and material: the expressive "Portrait of Dora Maar", modeled in plaster by Gonzalez's compatriots and friends Pablo Picasso and Apel.les Fenosa in 1939-1940. 
The proximity of these two works in this exhibition hosted by the foundation devoted to their friend and fellow Paris-based contemporary Joan Miró speaks to the significant contribution of Spanish artists in the development of modern art, and the way in which their pioneering works served as the basis for contemporary sculptural innovation.
"The Point of Sculpture" will be on display at the Fundació Joan Miró in Barcelona through March 6, 2022.