For the first time, Brazil is discovering the work of Julio González, thanks to the retrospective "Julio González. Space and Matter" which opened on June 4 at the Instituto Tomie Ohtake in Sao Paulo, Brazil, in collaboration with the Museu Nacional d'Art de Catalunya (MNAC) and the Fondation Abertis, and with the support of Arteris.
The 70 pieces presented, including sculptures, drawings, paintings, archival documents and photographs, retrace González's varied creative phases. This will allow the public to discover the Catalan sculptor's complex artistic personality and his pioneering role in the renewal of iron sculpture, with which he "draws in space".
The works displayed, mainly conserved at the MNAC, entered the museum's collections thanks to an important donation made to the museum by Roberta González, Julio González's only daughter, in 1974.
Displaying Julio González's works at the Instituto Tomie Ohtake invites us to consider the links between the Catalan sculptor and the Japanese-Brazilian painter, printmaker and sculptor Tomie Ohtake.
In spite of the distinct personality of each artist, who make their careers on different continents, it is possible to discern common ground.
For example, like Julio González, who only reaches his artistic prime late in life, Tomie Ohtake only begins painting around the age of 40, and her career really takes off in her fifties. Furthermore, in certain public works in Brazil and Japan, Tomie Ohtake also « draws in space ». Like González, she uses innovative, industrial materials, like steel and automotive paint, to create her monumental public sculptures.
Public works situated in Maracas Park (2008, Guaíra, Brésil), the Tokyo Museum of Contemporary Art (2009, Japon) or the Ark Hills Sengokuyama Mor Tower (2012, Japon) show the lasting and profound influence of Julio González's work on contemporary sculpture.
The retrospective « Julio González. Space and Matter », will be on view from June 4 to August 4, 2019, at the Instituto Tomie Ohtake in Sao Paulo, Brazil.
Entrance of "Julio González. Space and Matter", at the Instituto Tomie Ohtake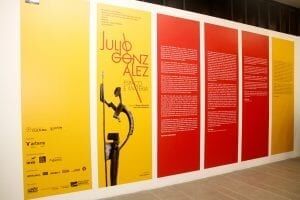 Elena Llorens, curator of "Julio González. Space and Matter", leads a visit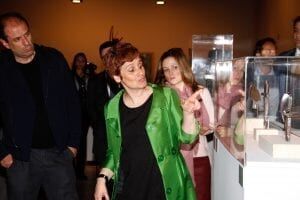 Ruy Ohtake, architect & son of artist Tomie Ohtake, at the exhibition opening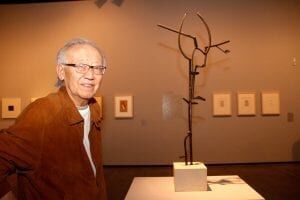 Ricardo Ohtake, graphic designer & son of artist Tomie Ohtake, with Elena Llorens at the exhibition opening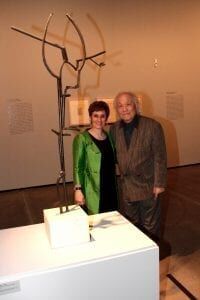 Photo credit: Leda Abuhab
In front of Julio González's classical paintings the night of the exhibition opening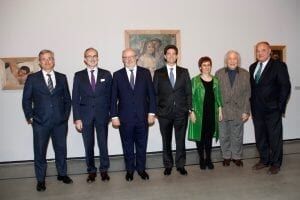 Elena Llorens, curator of "Julio González. Space and Matter", leads a visit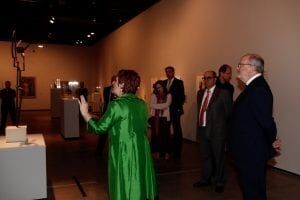 André Dorf, CEO of Arteris, sponsor of the Julio González retrospective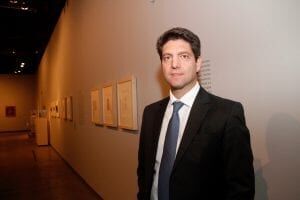 "Julio González. Space and Matter", June 4 to August 4, 2019, Instituto Tomie Ohtake (Sao Paulo, Brazil)