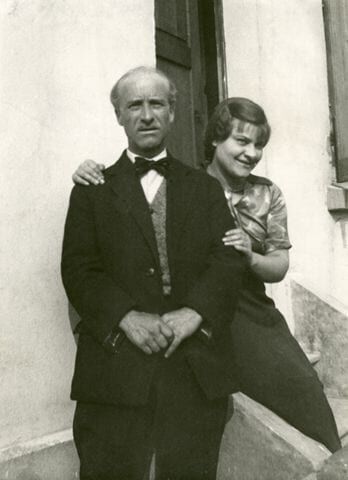 Roberta GONZALEZ (1909, Paris-1976, Monthyon)
Roberta Gonzalez is Julio Gonzalez's only child, born in Paris in 1909.
Roberta pursues the family vocation
Abandoned by her mother, Roberta grows up in a Catalonian enclave in Montparnasse, which in those years becomes an important avant-gardist hub. According to family legend, her childhood drawings are praised by Picasso, a longtime family friend. Indeed, Roberta pursues the Gonzalez family's artistic vocation. Her father encourages her creative pursuits, often telling her: "you will become a painter and you will accomplish that which neither your oncle nor I have managed to express in painting".
Roberta makes her Parisian debut in the late 1930s. Her works were then similar in style and content to those of her father. Her early drawings and paintings, rendered in a classic style, often representing peasants and mother and child scenes, evolve over the course of the 1930s. She adopts an avant-gardist style, influenced by Cubism and Surrealism. Her first personal exhibition takes place in 1939 at the Henriette Gomez gallery in Paris, along with the German abstract painter Hans Hartung. Roberta and Hans marry that same year.
A career interrupted by war
Soon after, their promising careers and their life as newly-weds are interrupted by the Second World War and the Nazi Occupation of Paris. The Gonzalez family flees to the Lot at the outbreak of the war. Hartung, considered a traitor for having abandoned, and fought with the French Foreign Legion against, his country, is tracked by the Nazis, and unable to return to Occupied Paris.  However, Julio Gonzalez, eager to get back to his welded sculpture, which he was unable to pursue while in the Lot, returns to Paris in 1941.
Roberta is therefore separated from her father when he unexpectedly passes away on March 27, 1942. Soon after, in response to the Nazi invasion of the South of France, Hartung is forced to flee to Spain. The two will only reunite after the war, while Hartung is hospitalized for wounds sustained during the Battle of Belfort, that lead to the amputation of his leg.
Back in Paris in the postwar period, Roberta returns to painting and drawing. She produces a series of stylized portraits featuring pensive and melancholic women. These are a reflection of her state of mind after the dark years of the war and the devastating loss of her father. Nonetheless, she pursues her career. She is featured in personal exhibitions at Parisian galeries like Jeanne Bucher (1948), Colette Allendy (1951) and Nina Dausset (1954), receives distinctions in several Paris-based art competitions, and participates in numerous collective exhibitions in Europe, the Americas and Asia.
The path to a personal style, between figuration and abstraction
Over the years, Roberta's work shows an increasing impact of Hartung's lyrical abstraction, which achieves great success in postwar Paris. As Roberta puts it, Hartung "opened a window on a new pictorial universe" for her. Without ever completely abandoning the representation of observed reality, Roberta develops a unique plastic language in which figurative symbols, motifs and signs exist in an undefined space, an abstract universe, often signified by expressive, dynamic and increasingly colorful, brushstrokes. Her personal style between figuration and abstraction reaches its maturity in the mid-1950s, and continues throughout the 1960s and early 1970s, before her declining health negatively impacts her production.
All the while, Roberta works tirelessly at the promotion of her father, and later, her oncle's, work. She organizes exhibitions and makes important donations of the Gonzalez family's work to collections in France, Spain and abroad.
Today, her own work is conserved in prestigious museums and institutions including le Centre Pompidou Paris, l'IVAM Centre Julio Gonzalez   and la Fondation Maeght.